Articles
Hello!
Hello!
Violin virtuoso Vanessa-Mae joins in London's Chinese New Year celebrations and tells why this British girl will always be proud of her Chinese roots.
Vanessa-Mae has been making headlines ever since she burst on to the classical music scene with her "techno-acoustic fusion" album The Violin Player in 1994, which sold three million copies worldwide.
The British schoolgirl with the looks of an Oriental supermodel; the virtuoso classical violinist who happily appears on Top Of The Pops; the dedicated musician who'd love to be a top-class skier — Vanessa-Mae is a nonplussing combination of seeming opposites.
She has all the self-possession of the prodigiously talented — though that's hardly surprising for one who entered the Royal College of Music aged 11, is a veteran of the concert stage and recording studio and is now preparing to embark on her third world tour At the same time, she is still only 19 and poised on the brink of life, with so much to discover.
One aspect she is exploring at the moment is her Chinese heritage, which has not before appeared in her music. As she told HELLO!, her new CD China Girl aims to introduce her millions of fans to another side of the Vanessa-Mae phenomenon. And in a further celebration of her Chinese roots, she played extracts from the CD at the Chinese New Year celebrations at the beginning of this month.
Vanessa, how close are you to your Chinese roots?
My maternal grandfather Tan Lip Kee was born in 1920 in Swatow, China. He was a Chinese patriarch in the true sense of the word — tough and disciplined on the outside but a real pussycat underneath.
One of my most vivid memories of Grandpa was how he used to enchant and entertain me with traditional Chinese folk stories. He passed away in Singapore in 1994, when I was 15, and I miss him very much. I dedicated China Girl to his memory.
Grandpa was my direct link with mainland China, where he lived in considerable prosperity until the Communist takeover. He was for many years very angry about the loss of our lands and wealth. Happily, he experienced a partial healing of emotional wounds when he returned to China not long before his death.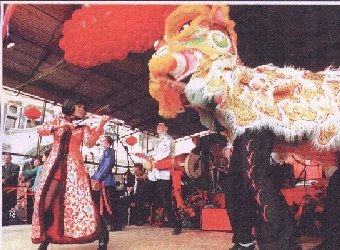 Do you see much of his widow, your grandmother?
She and I are very close. We are so in tune that we always know if something is making the other happy or unhappy. Her name is Chua Kim Luang and it's to her that I now look for my traditional Chinese roots.
Despite her age, Grandma is wonderfully spry and full of life. Although it's not always practical, I love taking her on tour as she acts as a good luck charm; she has this knack of exerting a calming influence on all who come into contact with her.
What are your parents like?
My mother Pamela is Singapore Chinese and my father is Thai. They divorced when I was very young and Mum married Graham Nicholson, who is British and, like her, a lawyer. We moved to London when I was three. But I still stay in touch with my natural father and try to dovetail visits to see him with concert tours of the Far East
Is your mother very involved in your career?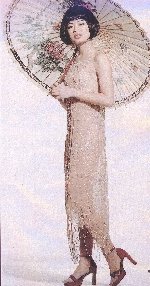 Mum has given up her professional life to use her wonderful administrative skills and eye for detail in helping to keep the Vanessa-Mae bandwagon on the right track. She's my best buddy and a great shoulder to cry on when it all gets a little overwhelming. We are a very tightly knit family and tend to end up both playing and working together.
Has your British upbringing — stepfather, schooling, friends — supreseded your Chinese heritage?
Not at all. My Chinese roots are never far from the surface. I'm still sometimes referred to at home by my Chinese nameof Chen May. In fact, Grandma and I have our own language — we speak to each other in her native dialect. China Girl is my deliberate attempt to reacquaint myself with my Chinese roots.
Having said that, I don't negate my Britishness, of which I'm also very proud. I suppose I'm a citizen of the world.
What Chinese sign were you born under?
I was born in 1978, the Year of the Horse.
Chinese tradition says Horse people are attractive, impatient and ostentatious — but they also love people. Would you care to comment?
Well, as for the first part, I'm at a total loss for words! However, I guess it's true to say that I do have a soft spot for bright and colourful clothes, and I'm certainly a people person. In my business — trying to reach both classical and pop audiences — there's nothing I enjoy better than feedback from a live audience.
As for the traditional Chinese fascination with star signs, you'll hardly be surprtsed to hear that I also have a passing interest in astrology. However, I wouldn't say that I'm a typical Scorpio (laughing). as I like to flatter myseLf that I'm rather too nice for that sign.
Do you hold to any Chinese superstitions?
One which made a vivid impression on me was "Don't sit or step on sheet music or books", as it is believed that will hinder you from playing the music or absorbing the story.
As a young girl you liked the idea of being a vet. Do you have any pets?
I have four divine little fluffy lhasa apsos — a breed of ten-inch high Tibetan terriers — and, next to my violin, they are my pride and joy. Their names are Kim-Sing, Chung-Pao, Tsi-Tse and Charlie. The story goes that the emperors of China used to keep these tiny dogs hidden in their sleeves and the animals would warn their masters if there was any approaching danger.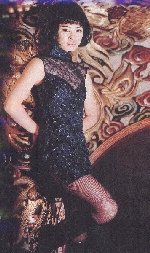 The Chinese Year of the Tiger has just begun. How do you celebrate New Year?
This year I was in London's Chinatown playing some of my favourite numbers to launch China Girl Usually, unless I'm touring, I like to spend Chinese New Year with my family — either at our London home or in Chinatown.
If celebrating at home, my mother and grandmother cook a wonderful dish of delicately flavoured noodles. For many families, noodles provide the staple for Chinese New Year dinner, as they symbolize long life.
If we go out, we head for one of our favourite restaurants. I love so many Chinese dishes it's really hard to select one for special mention. However I'm particularly partial to hot and sour soup and dim sum and, above all, bird's nest soup. For those who have never had the pleasure of tasting it, it's a nest created from, and held together, by bird's saliva. It is considered a great delicacy.

You have never before expressed your Chinese roots musically as you have on China Girl. What were you trying to achieve?
Well, first and foremost it was a loving dedication to my dear grandfather. Subconsciously, his influence and way of thinking are never too far away. Then I wanted to explore my Chinese heritage. I guess all my albums to date are Westernized, so this might be quite a radical move for some of my fans. However, if they open their ears, they will find much to captitate them.
Such as?
Such as the romantic nature of the music. I think there's a popular misconception in the West that Orientals are secretive and don't ever wear their hearts on their sleeves, especially when it comes to romance. So I deliberately chose the first two tracks on this CD — The Butterfly Lovers' Concerto by Ho Zhan Hao and Chen Kang and a violin fantasy on Puccini's Turandot — to scotch that notion.
The Butterfly Lovers' Concerto has a particularly touching story behind it, I believe.
It is based on an old Chinese legend about two star-crossed lovers who choose to die rather than be forced apart by the heroine's disapproving parents. There is a happy ending, however, in that the lovers return to be together as butterflies.
The third track is the Happy Valley Overture, also referred to as the 1997 Reunification Overture For Violin, which was premiered at hat year's handover ceremony in Hong Kong. How did you come to be playing, in a sense, for both sides?
It turned out I was the only non-Communist artist to be invited by the Peking Chinese administration to play on their side of the reunification ceremony. My musicians and I started playing just before midnight, which meant that the beginning of my performance actually took place while the island was still technically utider British rule. I was still performing when the mainland Chinese government assumed control, making mc the only foreign artist to play at the handover.
You've already achieved so much. What is your overriding ambition, the thing that keeps you reaching for the sky?
To do for the violin what Jimi Hendrix did for the guitar!