Articles
Classical Beauty
Ok! magazine
Virtuoso Vanessa-Mae has the looks, talent and poise to knock The rock world off its feet. She spoke to OK! about scaling the musical heights.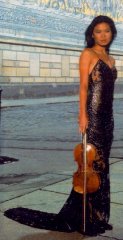 Only a handful of classical musicians ever become household names, and Vanessa-Mae is one of them. At just 18, the violinist is already a veteran performer, with the worlds of classical and pop music both at her feet. Her ground-breaking 'techno-acoustic fusion' album, The Violin Player, released in 1995, sold more than two million copies - helped, it must be said, by a cover shot featuring the teenage star arising from the sea in a clinging wet shirt. Her latest, The Classical Album 1, was released last month to great critical acclaim and even more chart success. Vanessa-Mae herself has all the charm and confidence you'd expect of a young lady from a privileged background who's spent most of her life in the company of adults. It's hard to imagine her having a bad hair day, or fretting over exams, pimples, and boyfriends. But when asked if she feels she's missed out on 'normal' life, she shakes her head. 'Not at all,' says the violinist, laughing. 'I have the best of both worlds. I adore travelling and I knew, when I went professional at 11 years old, that I wouldn't be able to go to school and see my friends every day any more. But that doesn't mean I never see them at all.'
Vanessa-Mae is equally at home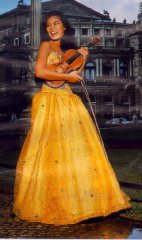 performing in front of a sedate, European audience or a crowd of headbangers. Last summer, she appeared on stage after Status Quo and before Rod Stewart at a festival in Zurich and received a 20-minute ovation. 'My manager asked me if I was sure I wanted to do it,' she says, 'and when I came on stage, the audience looked very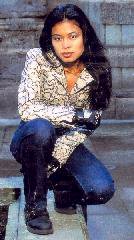 puzzled. But at the end of an hour, they wouldn't let me go. Someone actually had to unplug my microphone to let Rod Stewart's roadies set up his equipment.' If the rock world has been receptive to Vanessa-Mae's attempts to cross musical boundaries, the classical world has been somewhat sniffy. 'She should concentrate on the music and not be pushed into soft porn,' sneered The Times' music critic. Vanessa-Mae just shrugs. 'Critics aren't musicians, are they? They can't show the world how to do it,' she says coolly. 'To me, the beauty of music is that it breaks down all barriers. If you don't experiment, music becomes museum art instead of something that reaches out and touches people.' She also thinks too much has been made of her sexy image. 'I don't think I dress particularly sexily,' she says. 'I'm 18 and I dress my age. I don't look in the mirror and think, "I'm sexy"! No one's forced an image on me.'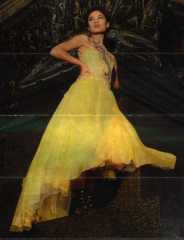 She was born in Singapore to Thai–Chinese parents, who split up when she was a toddler. Her mother brought her to London and married a lawyer, Graham Nicholson, who subsequently adopted Vanessa-Mae. 'I think of him as my dad and find it hurtful when the Press talk about my "real" father in Singapore,' she says quietly. 'As far as I'm concerned, he is my real father, the man who helped bring me up. But I go over to Singapore twice a year to see my first dad, too. I've got two older half-brothers and we all get on really well. I think all parents and daughters have times when they need a breathing space, but family values are very important to us.' Vanessa-Mae's touring and recording commitments, plus the four A-levels she hopes to get, leave little time for boyfriends — though she doesn't fear her fame will put them off. 'If someone's really interested in you, there are no barriers,' she says. 'If it's your fate to meet, then you will. When someone comes and talks to me I just assume that they have been touched by the music I play. Marriage and a family has never been my dream, but I'm sure it will happen one day.' Vanessa-Mae — who will be touring Britain in January — is in such demand, her schedule has to be planned eight months ahead of time.
'But things can change. It could all end tomorrow for all I know,' she says. 'I've had a wonderful two years. I'm a happy, lucky person and I know I have a lot more to look forward to.'